Spiritual Garden Opened at York Primary School
&nbsp
A SPIRITUAL garden has been opened at a York primary school in memory of a former office manager who died after a two-year battle against cancer.
The widower of Karen Thompson cut a ribbon to open the garden at St Lawrence's CE Primary School in Heslington Road, which includes a 'pod' where children can go to think in peace, perhaps when facing difficulties or are upset.
The garden also features a ceramic plaque featuring the words 'Karen Thompson...still sparkling,' a fountain, a prayer chair to which children can attach notes containing their prayers and thoughts, and also a prayer tree.
Following an emotional ceremony yesterday, during which the children sang hymns and the rain held off, Karen's husband Rick Thompson, of Osbaldwick, praised the idea of creating the garden.
He said it was a fitting tribute to his late wife, who had worked at the school for about 15 years until her death last year, aged 53, and who had loved working there with the children.
"I would like to thank the head teacher, who approached me with the idea for the garden, which I was 100 per cent behind," he said.
"Karen loved the children at the family and she took that love for children into the school."
He said she had carried on working there while fighting cancer over a two year period.
The ceremony was attended by other family members, including the couple's daughter Katie, their daughter-in-law-to-be Lizzie Cohan and their granddaughter Lydia.
Head teacher Jane Nellar paid tribute to Karen, who she said had been a 'very special lady,' who had always been a 'very sparkly person,' and had worked at the school with several head teachers.
She said the garden would provide a peaceful place where people could go when they needed some space.
She added that the children had been involved in the planning and development of the project through the school's worship group.
The emotional ceremony, attended by more than 200 pupils, also featured the presentation of the 'Karen Thompson Exceptional Child Award'.
This will be presented to just one child each year in recognition of their having done something 'really, really amazing," said Mrs Nellar.
The award went yesterday to Sidar Cetin, 10, who has been battling against leukaemia since December but was unable to attend yesterday's ceremony, which ended with a blessing for the spiritual garden by the Revd Canon Derek Earis.
&nbsp
York Pupils Enjoy Convent Tour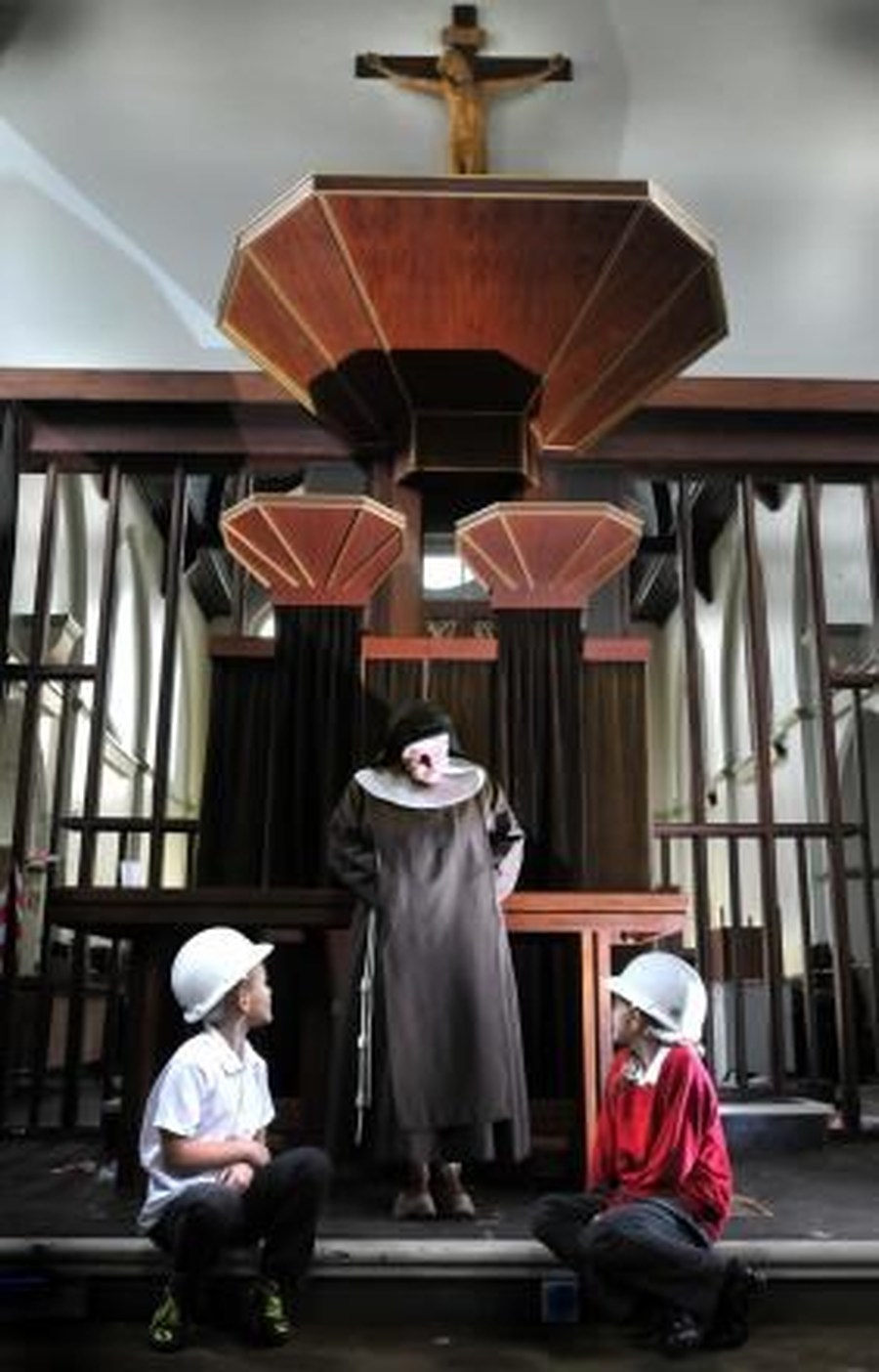 CHILDREN from St Lawrence's School in York took a peak into the neighbouring St Joseph's convent on Wednesday, and heard about the history of the site from one of the former residents.
The visit to St Joseph's Convent on Lawrence Street was organised by new site owner, Select Property Group, who are converting it into a student village.
St Lawrence's Headteacher Jane Nellar said: "Today's tour and insight into the new community that will be created at the student village is an invaluable way for our pupils to learn more about how places and people evolve.
"It's been fascinating to walk around St Joseph's today and we are very much looking forward to following the development of our new neighbour."
Former sister of St. Joseph's, Sister Paul, spoke to the children in the old chapel about the history of the site before they were taken on a tour around the buildings and the grounds, taking photographs to catalogue its evolution.
The convent was home to a closed order of Poor Clare Colettines nuns for more than 140 years, but the site had become unmanageable by the time the eight remaining sisters moved out around two years ago.
Select have planning permission to turn it into 660 bed student village with new buildings on the current gardens and the listed convent buildings refurbished and converted.
Select's chief commercial officer Mark Oakes said: "We are looking forward to working with the school on other projects and allowing the children to watch the sites' progress from its inception to the final stages."
The development of its York site will start at the end of the month with works to be carried out by one of the largest UK building and construction companies, Wates.
Children raise more than £360 for Cancer Care Centre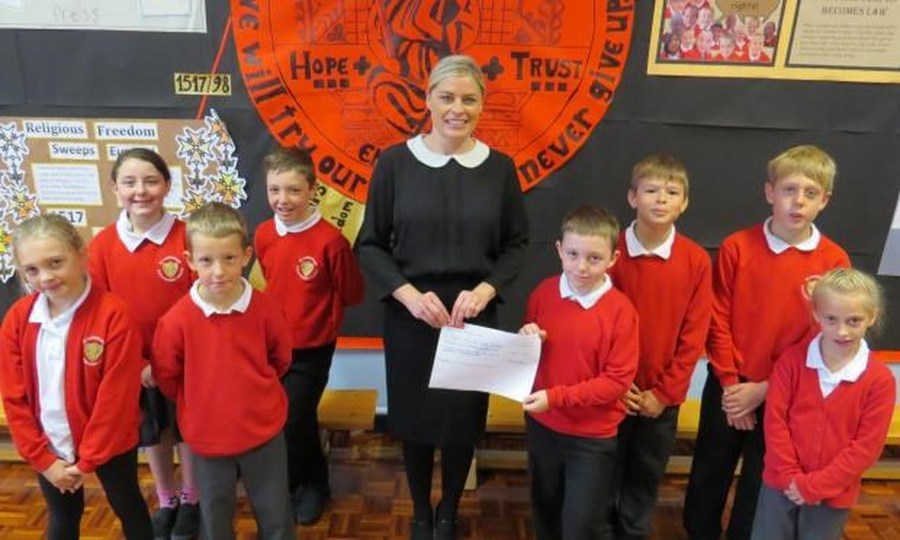 PUPILS from a York primary school have raised over £360 in support of two members of staff who became ill with cancer.
The group of children, aged between 6 and 11 from St Lawrence primary school in Heslington Road, organised cake sales, a raffle, non-uniform days, music performances and plays.
Headteacher Jane Nellar said: "As a school we encourage children to think about others and get involved in fundraising projects. The children specifically wanted their funds to go to a cause that meant a lot and chose the Cancer Care Centre because they knew we had staff who had used the centre.
"They worked very hard all year and the whole school is very proud of them."
The money will go to the Cancer Care Centre at York Hospital, which provides information, support, complementary therapies and guidance for patients with cancer and their families.
Jane Archer, cancer care centre manager at York Teaching Hospital NHS Foundation Trust, said: "Donations such as these help us provide the extras that can mean a lot to people at some of the most challenging times of their lives.
"We're very grateful to the children from St Lawrence – keep up the good work!"
Lord Mayor is lord of the dance at choral festival - 4th May 2015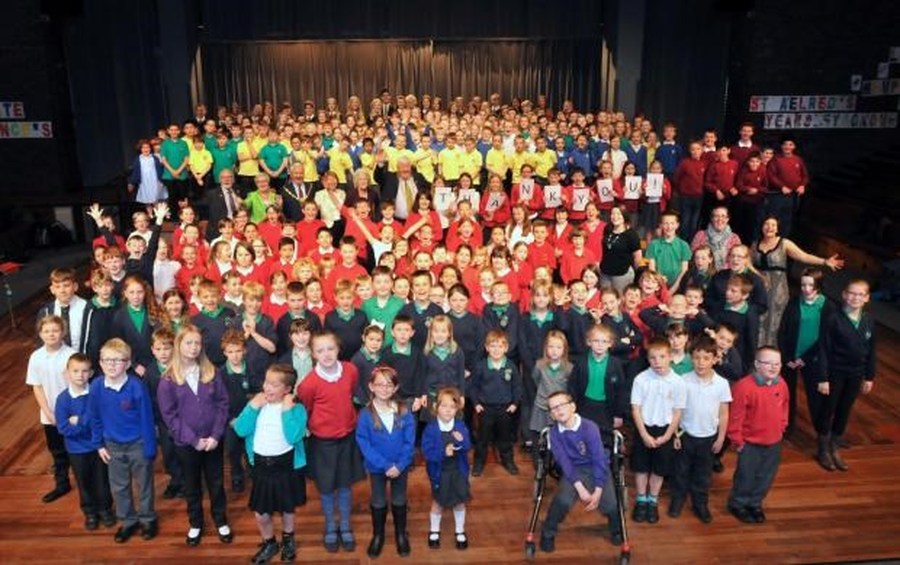 The Lord Mayor of York enjoyed a choral festival so much that he showed his appreciation by getting up and dancing, much to the delight of festival organiser Molly Newton.
Music teacher Mrs Newton said she wanted to invite the Lord Mayor, Cllr Ian Gillies, to the event, to thank him for his support for youth singing initiatives in the city.
About 300 children from school choirs across York and North Yorkshire sang at the event at the University of York's Central Hall
Mrs Newton said: "The Lord Mayor said it was marvellous.
"He enjoyed himself so much he got up and danced.
"I run the York Youth Civic Choir and he has been a big supporter of that.
"The event was supported by MEG the University of York's Music Education Group and the event couldn't have happened without them so they deserve a huge thanks."
Teacher raises £1,000 for York Teaching Hospital by running the Yorkshire Marathon - 1st April 2015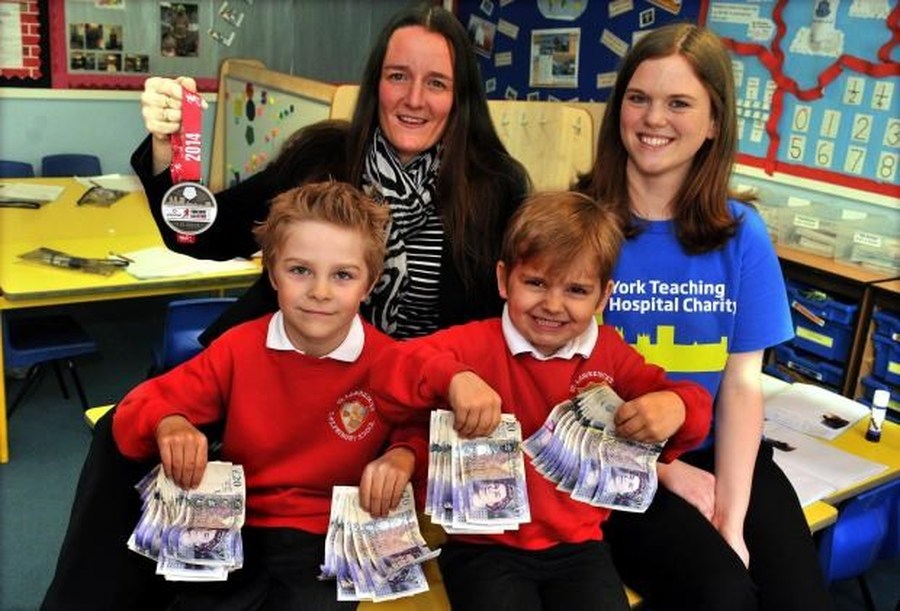 A primary school teacher has raised £1,000 for York Teaching Hospital charity by running the Yorkshire Marathon.
Helen Smith, from York, set up the Marathon Club at St Lawrence's CE School in Heslington Road to build up fitness for the 26.2-mile run last year.
Helen said: "I was inspired to take part in the Yorkshire Marathon after some parents planted the idea in my head and I thought it would be great to raise money for a worthwhile cause.
"It's taken a bit longer than expected to gather in all the money, but I'm glad we have now been able to hand it over to the charity."
Pupils' cribs to remind shoppers the real meaning of Christmas - 4th December 2014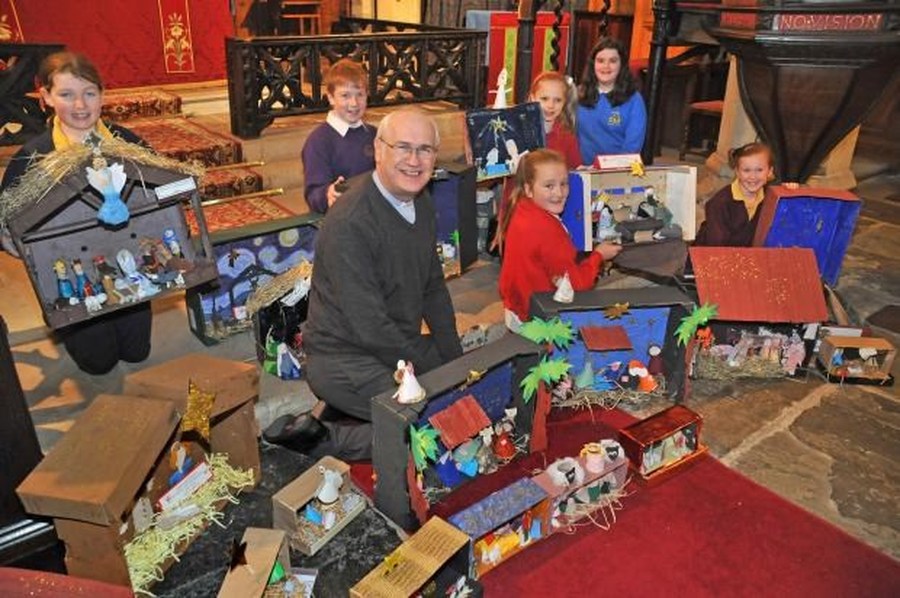 Handmade cribs have appeared in businesses across York and North Yorkshire, to remind busy Christmas shoppers of the real meaning of the season.
The cribs - made out of shoeboxes - are the handiwork of children from eight schools in York - and all 30 were blessed at a special service at All Saints' Pavement on Friday, before being taken in their new homes in shops and businesses.
Rev Derek Earis said: "We're delighted that so many schools and businesses have come together to help people remember the real meaning of Christmas. Eight schools have made thirty cribs for twenty shops and businesses in town, with scenes showing the birth of Jesus Christ. It's such a simple and lovely way to remember that Christmas celebrates God's love for us."
"It's very easy, amongst all the presents and excitement, to forget the real meaning of Christmas. We hope that these cribs, our presents to shoppers in York, will remind them of the most important part of our celebrations."
Sheila Riley's shop Sahara on Swinegate will be displaying one of the cribs. She added: "When the church contacted us and asked us if we wanted to take part, we thought it was a brilliant idea! We're a family owned business and we're delighted to support our local schools and help put York on the map."
St Lawrence's pupils set the pace to take 'Walk to School' award - 24th October 2014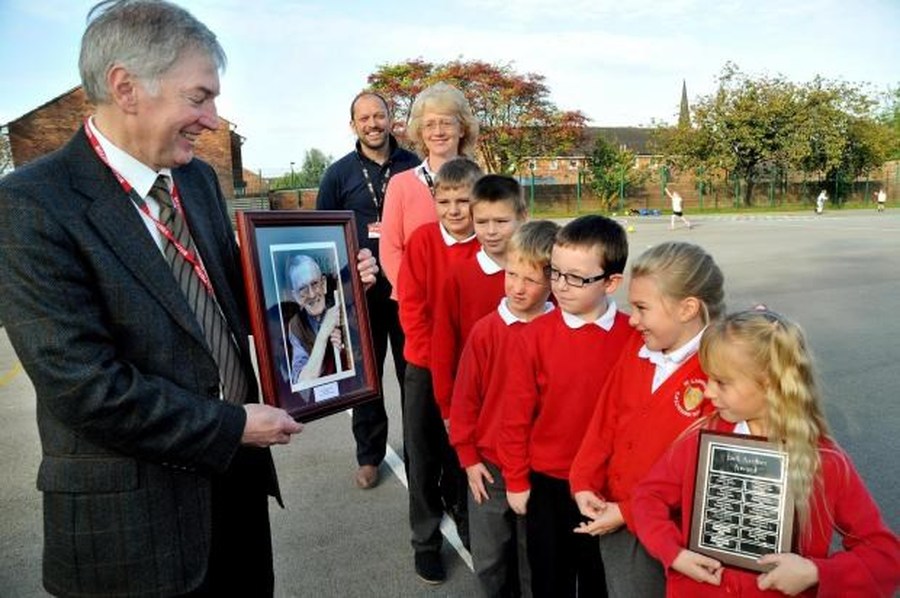 Children of York's St Lawrence's Primary School have triumphed in an annual "Walk to School Week" competition.
For the second year in a row, the school has won the Jack Archer award with 100 per cent of pupils walking, cycling or scooting to school throughout the week which ran from October 13-17.
The award, which is in its thirteenth year, is awarded to the school that encourages the most pupils to get involved, and St Lawrence's has received £200 from Age UK York and £200 from i-Travel York to be spent on sports and outdoor equipment.
Cllr David Levene, the council's cabinet member for transport, said: "I would like to congratulate all the pupils and staff at St Lawrence's Primary School on their great effort during Walk to School Week.
Copmanthorpe Primary School were hot on the tails of St Lawrence's with 96.3 percent of pupils walking, cycling or scooting to school. Dringhouses Primary School came in third with 91 percent of pupils travelling sustainably.
Hearing Dog puppy visits St Lawrence's CE primary school - 22nd October 2014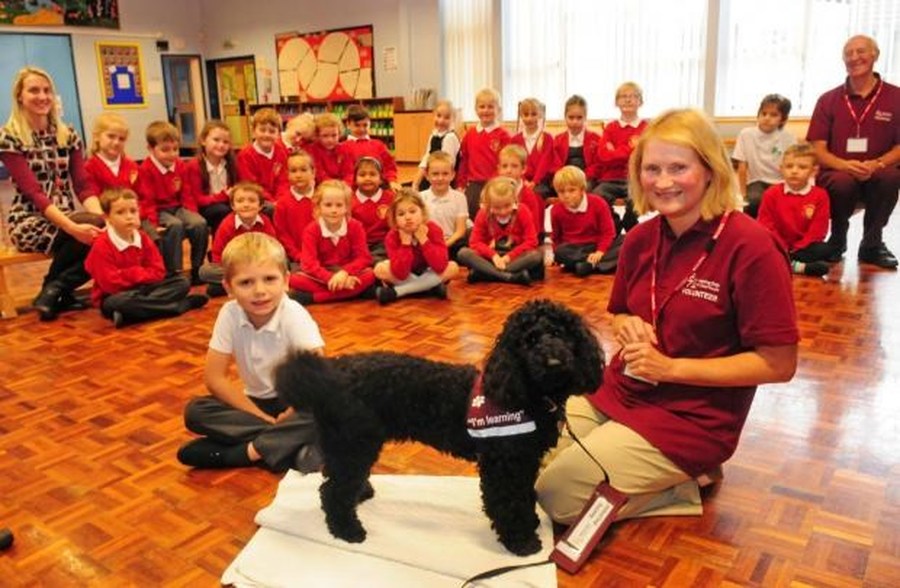 Pupils at St Lawrence's CE primary school in York had a visit from Hearing Dog puppy Quinn.
Quinn was brought in by Moira and Peter Adeney who are volunteer socialisers who look after puppies in their first year of life teaching them basic commands such as sit, down, stay and come, as well as taking them to lots of environments where they may work with their deaf person in the future.
"It was a great afternoon for all of us and the children learnt a lot."
Teacher Helen Smith enlists St Lawrence's Primary School pupils to help with Plusnet Yorkshire Marathon training - 8th October 2014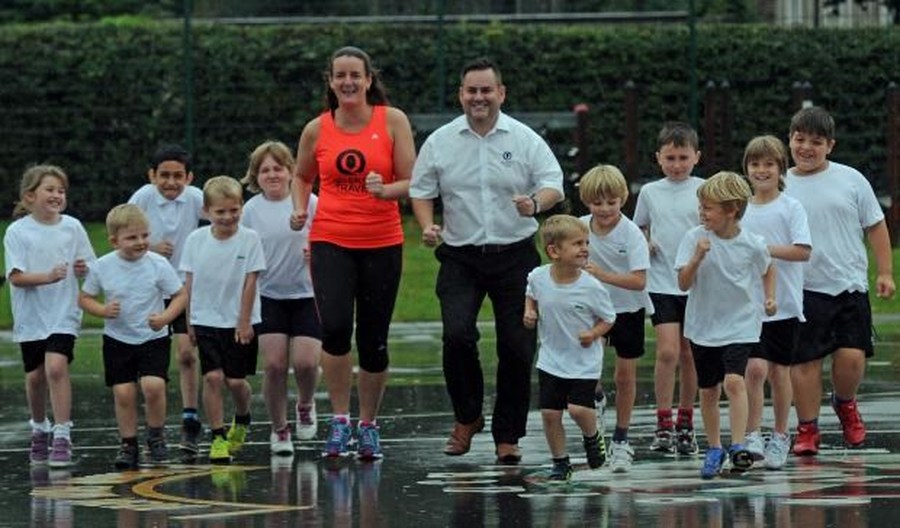 A teacher has enlisted the help of her pupils to prepare for a gruelling marathon on Sunday.
Helen Smith, from York, set up the Marathon Club at St Lawrence's Primary School in York to build up fitness for the 26.2 mile run, and has spent the last few months running with pupils before lining up at the start line of the Plusnet Yorkshire Marathon.
Helen, who is running for York Teaching Hospital charity, said: "I was inspired to take part in the Yorkshire Marathon after some parents planted the idea in my head and I thought it would be great to raise money for a worthwhile cause.
"The Marathon Club has been tirelessly training once a week, week after week in all weathers since June.
"They have taken part in endurance runs and races on the field as well as the playground."
Since joining the club, the children have learnt to pace themselves, increase their speed and show endurance by not giving up.
Helen also believes they have stuck by the school's motto of "Together with the help of God we will try our best and never give up."
She added: "This marathon will be one the biggest challenges I have ever undertaken and I hope there will be many people along the route to cheer me on. The school motto will certainly be running through my mind!"
She is being sponsored herself by Paul Smith of Quartz Travel, who has provided her with a fluorescent orange running vest adorned with the company's logo.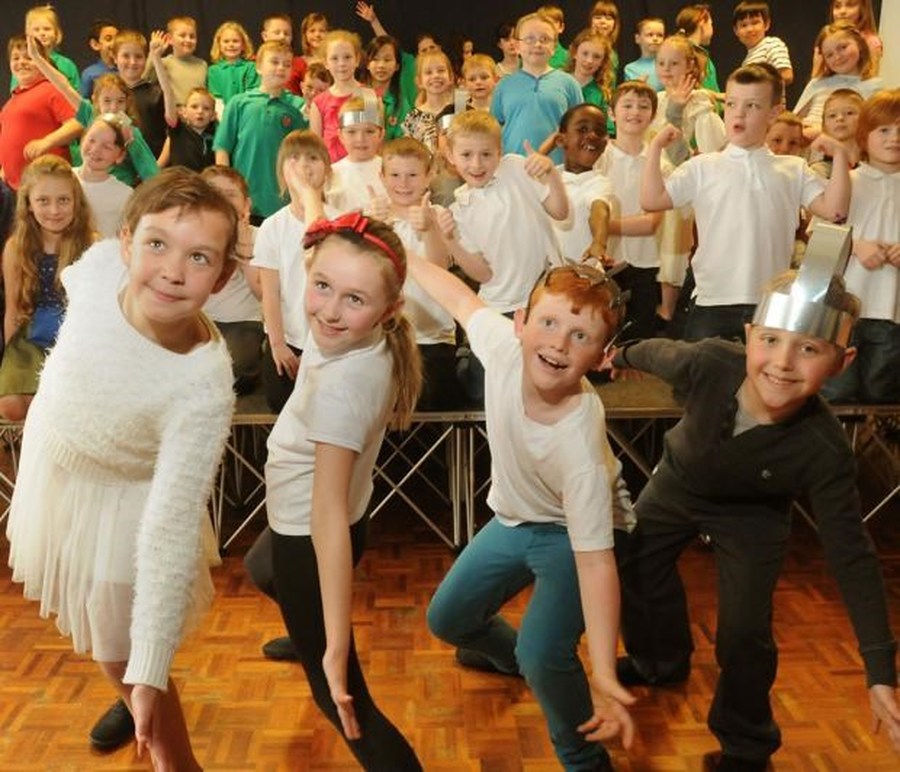 Young dancers tell story of Easter - 4th April 2014
Children at St Lawrence's C of E Primary school put on an all singing and dancing performance to re-enact the Easter story with a difference.
Pupils in years three and four at the school, on Heslington Road, performed Resurrection Rock for their Easter production this year, telling the story through song and dance having worked tirelessly to memorise the songs.
Head teacher Jane Nellar said that the pupils had worked extremely hard and had been rehearsing for over a month following the February half-term break.
She said: "The singing and acting were of an incredibly high standard and the children thoroughly enjoyed the experience of performing on stage.
"Mr Dring and Miss Ward the class teachers were so proud of all the children for their fantastic effort in producing a memorable, heart-warming show."
St Lawrence's CE School in York held a 'Back to Front Day' for charity in aid of the Children's Cancer Charity - 7th May 2014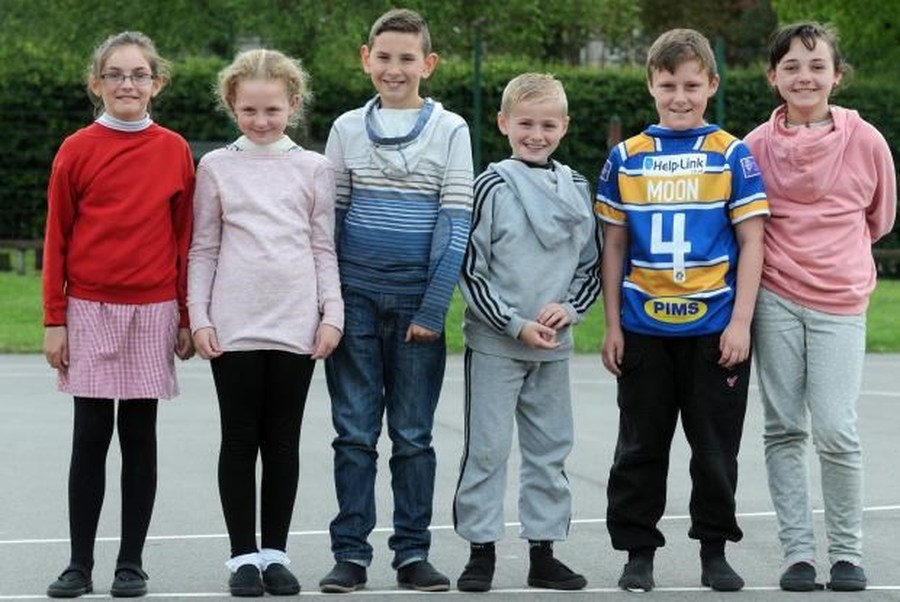 The children put their clothes on the wrong way round for the charity, after deciding they wanted to make a difference for those in the school community battling the disease.
The idea to put their clothes on back to front came about at a meeting of school council where the children decided it would be a unique and fun way to raise money.
The charity was chosen after a vote between on three different groups to support and the event raised £151.05.
All of the staff at the school were impressed by the children's imagination for the fundraising idea and thank all the children who took part for their donations.
Primary School pupils learn about role of geography in local media - 5th March 2014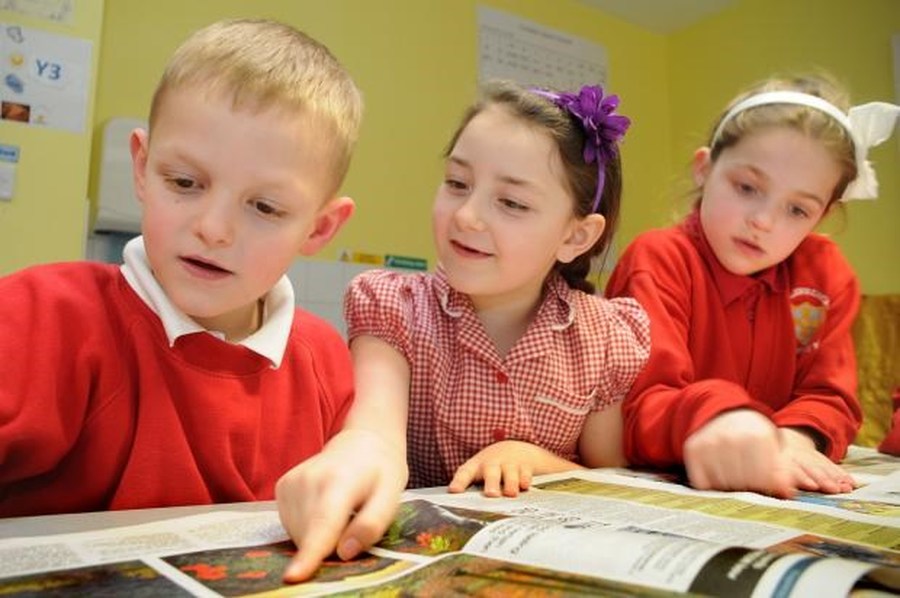 Learning about geography is not only about looking at maps, as education reporter Haydn Lewis found out when he spoke to pupils at a York primary school
GEOGRAPHY was never my strong suit at school, but little did I know the importance it would play to my future career when I chose to be a journalist.
What's more, I never dreamt I would end up talking about its role in local media to a class of 31 seven and eight-year-olds.
The geography of a paper's circulation area and the issues that interest and affect the people living there are at the heart of the articles that fill its pages and website.
When I took time out from news gathering to drop in to see pupils in Year 3 at St Lawrence's CE Primary School in Heslington Road, they got to learn about The Press circulation area. It is centred on the city of York and its villages in North Yorkshire, including Harrogate, Hambleton, Ryedale, Selby and the resorts of Filey and Scarborough and into East Yorkshire with communities including Pocklington and Stamford Bridge.
I, in turn, got a lesson in trying to maintain the interest of a mercifully very well-behaved bunch of youngsters.
We talked about a range of issues and how local geography has an impact on news every day, with particular focus on the ongoing daytime closure of Lendal Bridge to traffic.
I was also asked a range of different questions, from what I like most about my job, to how we source news stories.
Teacher Paul Dring said the contribution from The Press was part of a wider project in geography.
He said: "In Year 3, the geography we are focusing on is to make the children more aware of their community and world, with particular reference to news. Being better informed ensures that children are taking more notice of important events and having an impact on the outcomes by taking part, responding and becoming responsible, well-informed citizens."
After the presentation, pupils, Connor Fewster, Laila McIntyre and Tasha-Lee Smith, all aged eight, and seven-year-olds Kai Davis and Paris Bridges talked to me about what they had learnt.
Connor, who wants to be a football player when he is older, said: "I found out how you get a newspaper in colour and how they make The Press and how to get news stories."
Laila, who would like to be a teacher or a singer, said: "I have learnt that working at The Press is interesting."
York primary celebrates special achievement after every pupil walks, scoots or rides to school - 12th October 2013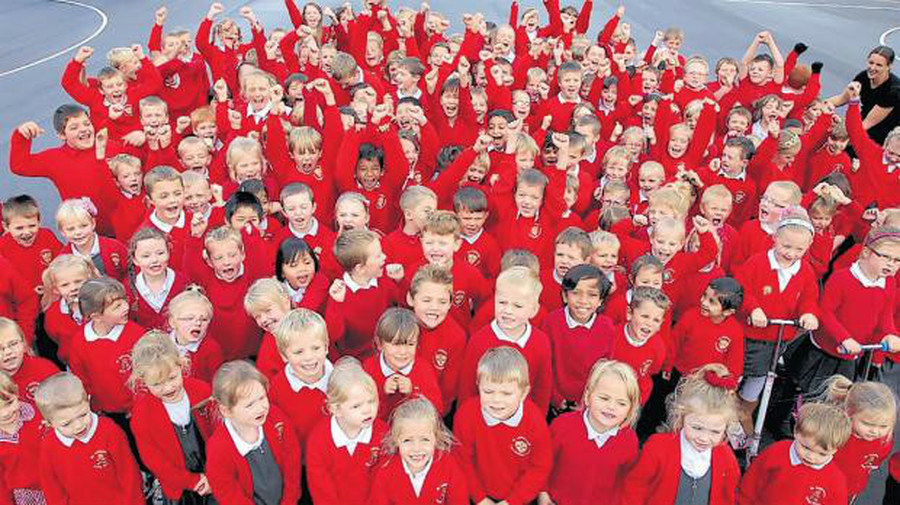 A road outside a York primary which is usually teeming with vehicles during the morning drop-off was car free throughout Walk to School Week.
St Lawrence's CE Primary School managed a remarkable 100 per cent participation with not one of its 200 pupils driven to school over the five days of the campaign.
Now children and staff are hoping to scoop hundreds of pounds of prizes and the Jack Archer Trophy, offered by City of York Council to the school with the highest participation during the week, which ended on Friday.
Head teacher Jane Nellar said she was proud of how well children, parents and staff had worked together.
"What a fantastic achievement; well done St Lawrence's school community. The school community rose to the challenge and managed the outstanding feat of 100 per cent children and their families walking, scooting or biking to school every day."
Senior teacher Helen Smith galvanised the school into action and once everyone had played their part St Lawrence's ended up with a result that no one could have predicted, Mrs Nellar said.
Neighbour and school governor Harold Mozley said this week was the first time in 17 years he had seen the road car free in a morning.
Now the school is waiting to hear whether it has won the £400 of prizes on offer from the council, which organised the challenge as part of the national Walk to School month.
Twenty-seven schools across the city signed up to take part, and the school with the highest percentage of children walking, cycling or scooting to school will win a £200 prize from Age UK, matched by £200 from the council.
This year mark's the tenth anniversary of the Jack Archer Trophy, named after former councillor, honorary alderman and two times Lord Mayor of York who died in 2010.
The council also offered a bonus prize – a £300 Scooter Pod – for the school with the highest number of children scooting to school on Wednesday.